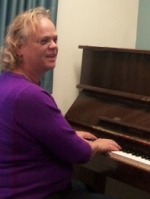 Or order your copy of the sheet music from HMP using a cheque or direct credit.

Buy online via Shopify





Mix Margaret Dylan Jones
W.A. composer, pianist, teacher, article writer

---
Androgyne Prophecy (1977 piano solo)

---
HMP 28
More links for video etc coming soon!



Listen to excerpts on SoundCloud
Video of the composer playing Androgyne Prophecy (music duration is 4' 10")
Excerpt of that video - 2' 40" (soon)
Video of the composer playing and talking about this piece (soon)
Order your copy of the sheet music from HMP using a cheque or direct credit.
See the easy arrangement (soon)
PPPPPPPPPPPPPPPPPPPPPPPPPPPPPP DON'T USE this file, need to use Hostgator's onine Code Editor for the Shopify links (which Kompozer tuncates)



Page one of four
ISMN: 9790900967503. Second edition



Composed either side of my sixteenth birthday in 1977, when I was living as a boy with gender issues and contemplating what could have been a bleak future. Hence so sad!

This piece featured in a seven-minute profile on me broadcast on ABC television in 2004, in the George Negus Tonight programme. It showed me playing it on my lovely old Thürmer upright piano.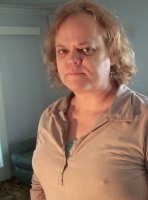 ---
My sites
PIANO PAGES HOME
SINGING SITE HOME
RESOURCE REVIEWS HOME
Combined Entry Portal
BLOG
(leave a comment)
Facebook:
MixMargaretDylanJones
SoundCloud
(free recordings)
YouTube (videos)
Site List